Cone Editions is the studio that originated digital printmaking and is where fine black & white photographic inkjet printing was invented. We've been digital printmakers longer than anyone else on this planet. Jon and Cathy Cone founded Cone Editions Press in 1980 and transitioned into digital as early as 1984. We have produced some of the most important exhibitions of our time, and continue to work with photographers and fine artists all over the world . . .
Jon Cone
Jon Cone a graduate of the Ohio University School of Art. He is Master Printer at Cone Editions co-founding the experimental printmaking studio in 1980. He is equally comfortable in inkjet, intaglio, platinum printing, photogravure, and relief print. He is the the first pioneer of digital printmaking as well as the inventor of quad black inkjet printing. As a printmaker, he has collaborated with some of the most important painters, sculptors, and photographers of our time.
Cathy Cone
Cathy Cone is a photographer and painter. Cathy with her husband, master printer Jon Cone, founded Cone Editions Press in 1980 in Port Chester, NY as a collaborative printmaking workshop. Cone Editions is now located in East Topsham, Vermont where Cathy is the creative director of the Workshops and Studio.
Cathy received her training at Ohio University, Vermont Studio Center and the Maine Media Photographic Workshops. She received her MFA at the Maine Media College. She was awarded the Vermont Art Fellowships. Some of her exhibitions include Weisman Art Museum, University of Alabama, DeCordova Museum, and the The Vermont Center for Photography. Her works are in the collection of IBM, MCI, Hallmark Fine Art Collections, American Express and the Beekman, A Thompson Hotel, New York.

Nathanael Kooperkamp
Nathanael Kooperkamp is lead printmaker at Cone Editions Press. He received a BFA from the College of Wooster, a Post-Baccalaureate Certificate in Printmaking from the San Francisco Art Institute, and a Masters in Fine Arts from UMASS Amherst. He brings a wealth of experience, knowledge, and expertise to the position working professionally in digital, papermaking, and printmaking.
Walker Blackwell
Walker Blackwell is head of innovation and technology at Cone Editions Press. As a printmaker for twenty years, he founded Black Point Editions in 2004—a collaborative print atelier in Chicago—and later Latitude, a Chicago-based 501c3 non-profit community print-lab going strong today. Walker, a Vermont-native, has worked for many artists from all over the world and from all different art-practices since the early 2000s and brings that collaborative spirit to the CEP team.
Some of our clients . . . .
Richard Avedon
Norman Bluhm
Susan Bloom
Stanley Boxer
David Bowie
Zana Briski
Clyde Butcher
Emily Cheng
Gregory Colbert
Lynne Davis
Lydia Dona
Barbara Ess
Peter Falk
Sabra Field
Richard Geer
David Gillison
Sharon Harpe
Willy Heeks
Ed Hill
David Humphrey
Lester Johnson
Wolf Kahn
David Kapp
Jim Kempner Fine Art
Rob Kendrick
Saul Leiter
Lincoln Center
Bonnie Lucas
Iñigo Manglano-Ovalle
Annu Palakunnathu Matthew
Melissa Meyer
Diana Michener
Yassumassa Morimura
Alexander Mouton
James Nachtwey
JPL
National Geographic
Nike
Jesse Orosco
PaceMagill Editions
Gordon Parks
Paul Pfeiffer
Archie Rand
Carole Seberovski
Jonathan Singer
Kiki Smith
Space Telescope Science Institute
Brian Tolle
John Yau
Mark Shaw
Ralph Eugene Meatyard
Our Story
Cone Editions Press is now located in the rural village of East Topsham, Vermont. However, it was founded in 1980 in Port Chester, NY as an experimental, collaborative printmaking workshop by Jon and Cathy Cone. With an interest in painterly abstraction, the Cones invited painters associated with the 1950's New York School including Norman Bluhm, Stanley Boxer, Lester Johnson and Wolf Kahn to collaborate with them in experimental printmaking using screenprint, intaglio, and monoprint.
In 1983, Cone began to include collaborations with artists of his own generation. Many younger painters made prints at the Port Chester, NY studio including Emily Cheng, Lydia Dona, Willy Heeks, David Humphrey, David Kapp, Archie Rand and Carole Seborovski. The studio's early emphasis was on direct techniques including hand drawn screenprints using crayons and resists developed by Jon Cone, and aquatint photogravures from hand drawn and painted mylars, and monoprint.
In 1984 Jon Cone began experimenting with computers and printmaking. Cone considered these early experiments as an adjunct to the direct printmaking produced in the studio. One of the earliest collaborations with Joel Fisher produced temporal works in which the artist's drawings were digitized with an early prototype scanner and transformed by Cone into sound files which were edited with the artist's ears through a software produced in HyperCard by Cone. Ultimately, Cone and Fisher would produce unique computer derived screenprints from these sound files, as well as unique etchings produced from code written by Cone based on an anagram by Joel Fisher.
In 1985, the studio added aquatint photogravure etching, which permitted artists to start etchings from hand drawn and hand painted mylars. In 1986, the studio began including relief printing. Three highly popular relief print projects included Stanley Boxer's intaglio wiped woodcarved monoprints, Lester Johnson's Man in Woodcut 1953-1957 (printed for the first time in 1985) portfolio, and the monumental sized Potato Prints Series with Archie Rand.
David Humphrey and Jon Cone collaborated in 1986 on the first of more than 14 years of digital projects in which they would combine computers with non-traditional printmaking. Humphrey used drawing and painting software to produce photo-etchings. Humphrey and Cone produced an elaborate digital collaboration in 1990 in which a grotesquely Orwellian use of technology enhanced personal memories scanned form the artist's family album. The results were monoprints printed from digitally screenprinted oil paint on plexiglass. Cone and Humphrey eventually collaborated on the Milk Series in which elaborate still lives composed and immersed in milk by the artist were scanned on the studio's newest equipment, a custom built 40″x60″ direct scanner.
Cone Editions Gallery opened at 560 Broadway in NYC's SoHo art district in 1987 with a show of 8 large scale Poem Prints by painter Norman Bluhm and poet John Yau. Ultimately, the gallery would show the works of more than 20 artists published by Cone Editions since 1982, including the digital printmaking exhibition, The Proof.
In 1990, Cone Editions relocated to the small, rural village of East Topsham, Vermont and dedicated itself to the development of digital printmaking. Cone built a separate 4200 square foot post and beam studio with private artist's quarters. Initially the studio combined digital imaging with screenprint, photogravure, relief print and monoprint. In 1992, Cone Editions acquired its first IRIS 3047 printer, an ink jet printer which would ultimately prove to be very malleable in the hands of Cone. Melissa Meyer was the first invited artist to produce prints with this new large direct digital printer. The project consisted of IRIS printed "grounds" of high resolution drum scans of the artist's recent paintings, on which Meyer over-printed as many as 12 additional screenprinted colors from hand painted mylars.
Cone has been developing digital methodologies and workflow which have enabled scores of photographers, imagers, digital service providers, and teachers to embrace the latest technologies with confidence and skill. Considered to be the first pioneer of digital printmaking, Cone later went on to become IRIS Graphics Development and Marketing Partner for fine arts in the early 1990s, training an entire generation of Giclée printers including David Adamson, Laumont Editions, MuseX Editions, Urban Digital Color, Jamie Cook, Mike Hunter, Donald Saff's SaffTech, Robert Rauschenberg's Untitled Press, and many others. Ultimately, Cone Editions would develop a unique IRIS methodology and a series of hardware interfaces, software and archival ink sets. Cone's software and inks set up a whole new generation of printmakers, as the IRIS fine art print studio era was born.
In the late 1990s Cone turned his attention to developing inks and software for and facilitating process and workflow with EPSON inkjet printers. With Cone's guidance, software and inks, digital printmaking became accessible to the latest generation of digital printmakers. A whole new Black and White generation is successfully using Cone's latest innovative products: Piezography® brand software and inks for EPSON printers. His Piezography inks have revolutionized traditional darkroom printing just as his IRIS software and archival inks revolutionized the fine art printmaking industry in the early1990s.
Since 1984, Cone Editions Press has been producing some of the most innovative digital photographic projects in the world. Five pivotal exhibitions in 1997/1998 launched inkjet printing into the public's eye as a valid photographic medium. David Humphrey's suite of digital inkjet prints utilizing large format scanning played an important role in "(re) Mediation: The Digital in Contemporary American Printmaking" which was the United States winning entry in the prestigious 6th annual Biennial of Graphic Art in Ljubljana, Slovenia. Washington D.C.'s The Corcoran Gallery of Art launched the Gordon Parks Retrospective, "Half Past Autumn" in 1998, and which is still touring the nation. The color prints were produced at Cone Editions Press with the IRIS Giclée process. Diana Michener's extraordinary "Solitaire" exhibition at Pace MacGill Gallery in 1997 was produced with a one-off IRIS DigitalPlatinum monochromatic process on thin sheets of Japanese hand made Washi paper. Richard Avedon's "In Memory of the Late Mr. and Mrs. Comfort", a fashion portfolio photographed and created for The New Yorker, November 6, 1995 issue was painstakingly reproduced as a limited edition IRIS portfolio in 1997 & 1998 from the original transparencies. The Painted Photograph at the Real Gallery in NYC highlighted several photographic hybrid process from Cone Editions. Bill Jones, editor of ArtByte Magazine wrote the catalogue essay.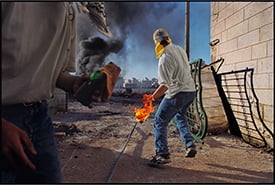 James Nachtwey: This is personally one of the most intense collaborations that Jon Cone has been involved with. Begun November 2013 and expected to last some time as Nachtwey now lives forty minutes from Cone Editions Press. The pair are working closely together on an exhibition to open at the Currier Museum in 2015.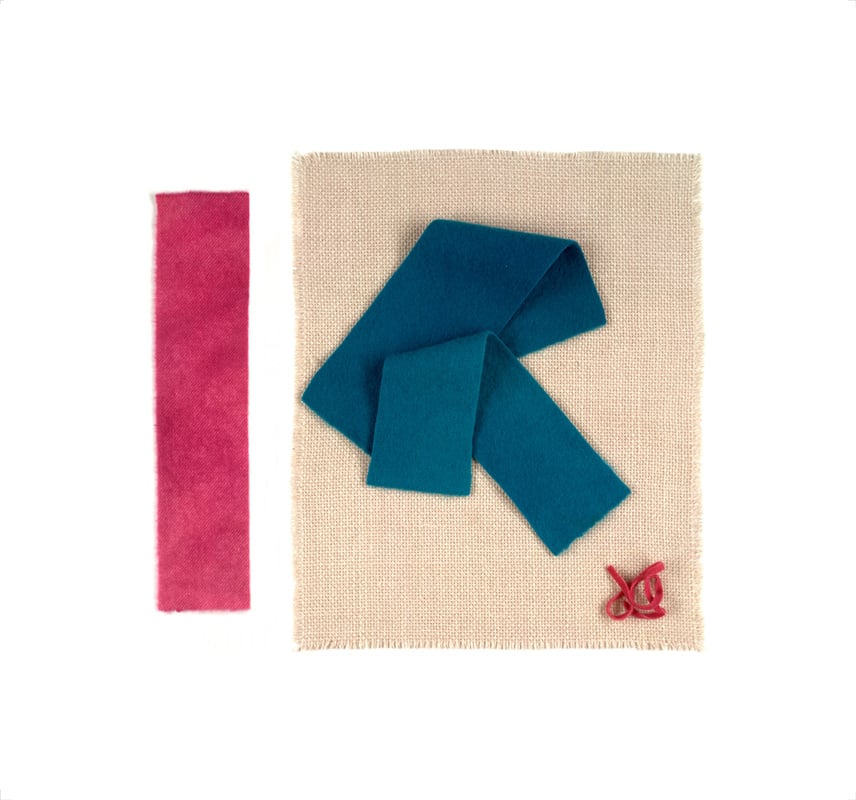 Altoon Sultan: Red Line, 2012. We have been working with Altoon for since 1995. This particular project included our overhead scanner under which Altoon built montages from materials she brought to our studio.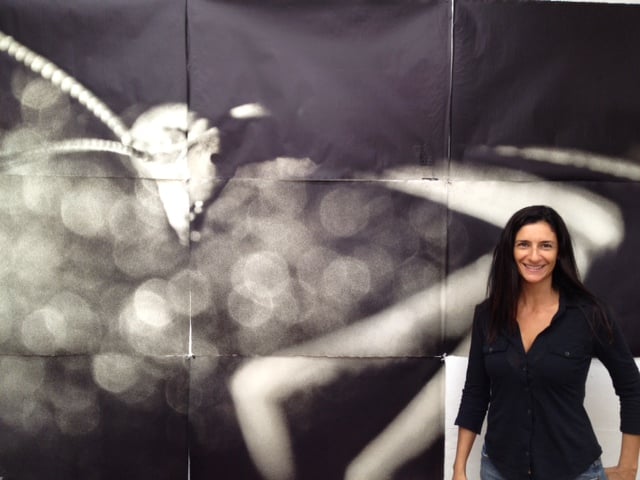 Zana Briski: We have been working with Zana for several years producing IRIS prints as late as 2011 and now concentrating on Piezography printing and our extreme printmaking on thick hand made papers up to 60″.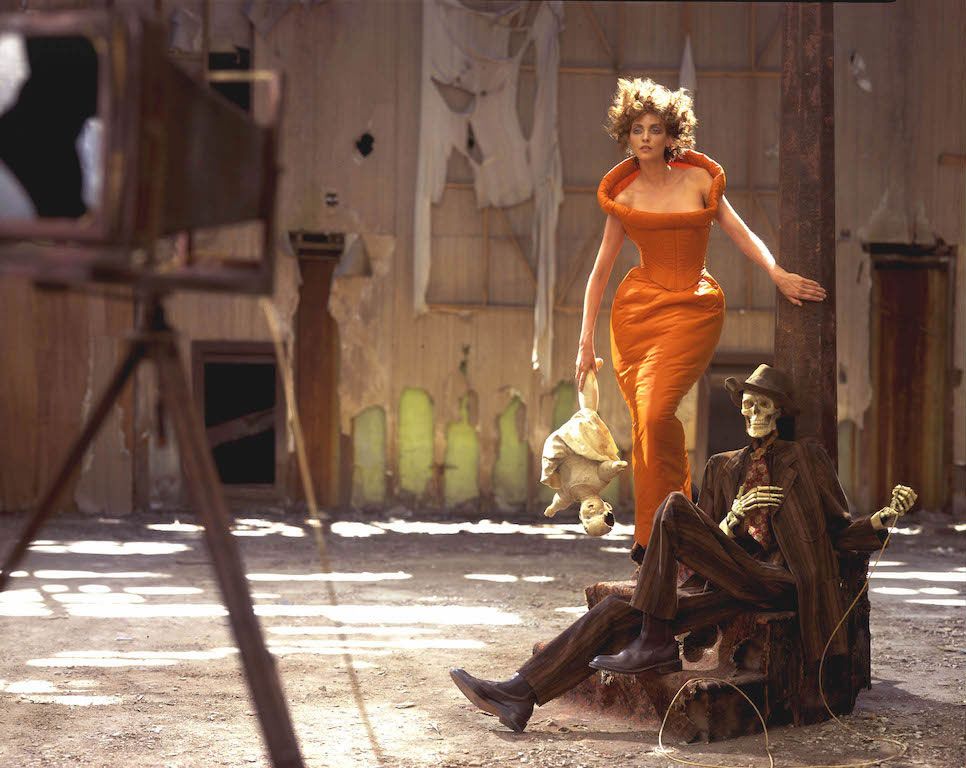 Richard Avedon: We produced the last living portfolio with Richard Avedon. The Comforts Portfolio: A Fable in 24 Episodes was started in 1994 completed in 1995 using a set of archival color inks developed in 1993 by Cone Editions exclusively for Richard Avedon. The project was printed using the IRIS 3047 printer.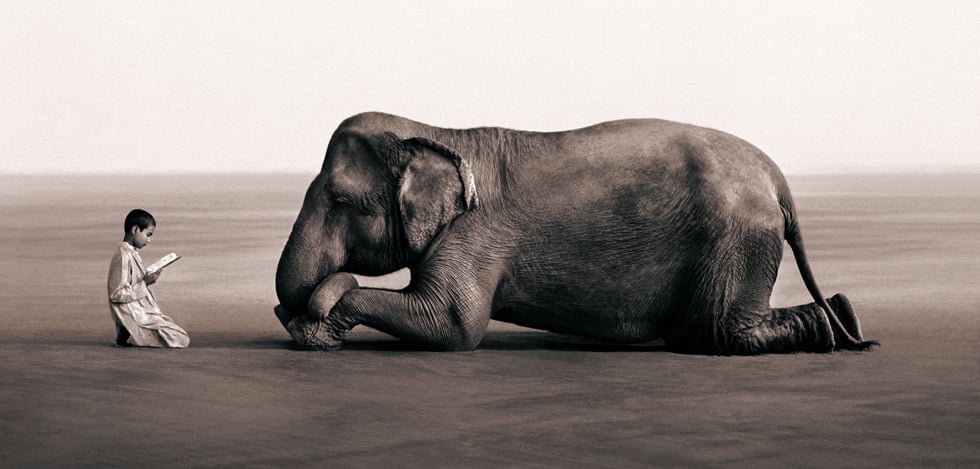 Gregory Colbert: The Ashes and Snow nomadic museum exhibitions in Santa Fe, Tokyo and Mexico City were printed by Jon Cone from 2005 – 2008. Using a combination of JonCone Studio and Piezography inks on handmade papers up to 94″ x 186″, these prints were viewed by more than 13 million people making it the most viewed exhibition in history.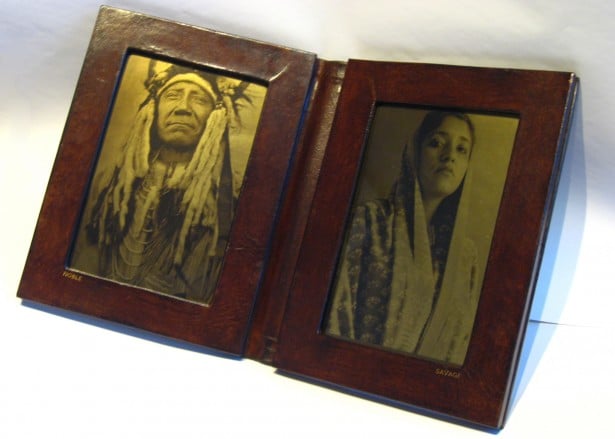 Annu Palakunnathu Matthew: Noble/Savage, from An Indian from India, 2007. Digital print on acetate mounted on gold media to imitate Curtis Orotone process. Housed in hand tooled leather cases.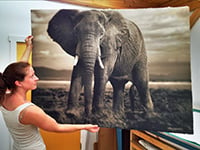 Andrea Zini: Printed on impossibly thick hand made sheet of Japanese paper printed with a special combination of Piezography and JonCone Studio inks for photographer Andrea Zini. The papers were made to size for the photographer to match the format of his digital Hasselblad. Two exhibitions printed in 2012 and 2013.