PiezoDN ~ Digital Negatives that Work, Aug 28-31 2023
Making perfect digital negatives for any alternative/historical process.
Registration Fee: $450, Total Fee: $1750
We teach you how to produce and calibrate screen-to-print-matching digital negatives for any darkroom or alternative process using the PiezoDN system. During the course of this workshop you will also be making and learning the Malde-Ware Platinum/Palladium print process.
If your ultimate goal is to make silver prints, or salt prints, or cyanotypes or any process that requires a digital negative - this workshop is for you. If you have always wanted to learn platinum / palladium printing, this workshop is also perfect for you! If you want a platinum / palladium process reboot, this workshop is also perfect for you!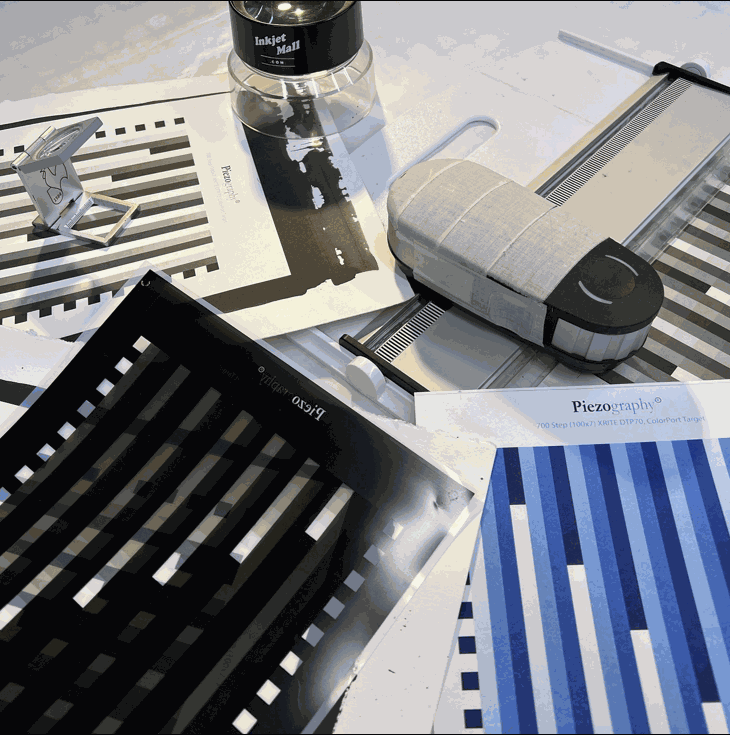 A Few of the Things You Get to Learn . . .
Perfect monochrome calibrated dig negatives. How to calibrate for any given darkroom. How to control darkroom variables: paper, chemistry, temp, humidity, etc. Platinum/Palladium printing. PtPd Chemistry mixing. Rod coating. Imaging for Alt Process. Linear and non-linear print workflows. Professional inkjet film printing. Piezography monochrome systems. And so much more . . .
What to Expect . . .
People are generally overwhelmed with information in this workshop but by the end of it they have a good understanding of the Malde-Ware Platinum print process as well as how to make and calibrate Piezography "PiezoDN" Digital Negatives for any process using an Epson printer and Piezography inks. Some people come to the workshop wanting to make dig negs and print Platinum as much as possible. Others come to the workshop wanting to just learn the technical aspects of calibration. Because the workshop is so perfectly calibrated and PiezoDN makes it possible, pretty much every single negative will produce a perfect platinum print. So attendees walk away with an impressive production as well as a large amount of information.
Note: Each student gets 2 bottles of Platinum/Palladium chemistry included (free of charge). This is enough to produce many prints in the class and even have excess to take home afterwards.
Workshop Syllabus


Day 1: Necessary Knowledge
A little knowledge goes a long way. A lot of knowledge goes further. The right knowledge is essential to a good start as well as advanced image 
development. This day is devoted to making sure you step on the correct path.
Piezography® has evolved from a system invented by Jon Cone at Cone Editions Press in 1994 that operated on $123,000 IRIS inkjet printers. Piezography for Epson printers was first released in 1999 as a beta and in 2000 as a commercial release.
Since then, Piezography has introduced many important innovations such as using 100% pigment ink for Epson printers prior to Epson itself; proprietary monochromatic ink ICC profiles for the Epson printer driver; acrylic co-polymer encapsulated pigment inks. Proprietary gamma 2.20 output media profiles for the QuadTone RIP printer driver. Perfected digital negatives. Split toning ink sets. The list goes on...
In the space of a small media file called a "curve" in QuadTone RIP, is the innovation of Piezography software. The Piezography profiler produces media profiles which turn QuadTone RIP into a turnkey operation. These Piezography curves are produced on a proprietary software which we began writing about 2002. They enable QTR to force the Piezography ink laden Epson printer to produce much higher resolution than the printer was capable of. It produces extremely smooth output that matches your screen.
This is the day where you learn how to prepare your printer, how to install the software and inks, and how to operate the system to get the best possible output. 
Introductions of workshop attendees and instructors and viewing attendees portfolios (optional)

Installation of Piezography Professional Toolset, PiezoDN, QuadTone RIP, Print Tool, Piezography ICC profiles, Piezography Targets, and Documentation onto each workshop participant's laptop.

Connection to the Cone Editions Print Server via network, and connection to pre-calibrated hardware calibration displays to each workshop participant's laptop.

Cone Editions Press studio tour and introductions to support staff. A visit to InkjetMall offices and introduction to the superautomatica coffee maker (Ethiopian Harar medium roast). 

Tour of the Cone Editions platinum print lab and introduction to Malde-Ware chemistry and workflow, and the three humidity system options.

Demonstration of paper preparation, emulsion coating, drying and humidification, exposure, processing, and washing.

Supported printers & System Requirements

QuadTone RIP & QTR Print Tool

The Piezography digital negative ink sets

Intro to Piezography Curves

Installation of QuadTone RIP and the Piezography media profiles libraries

User filled cartridges, chip resetting, and basic printer operation ~ ongoing throughout the day.

Installation of Piezography ink systems

Demo of the PiezoDN negative printing workflow using the Match Print to Screen option.

Setting up Photoshop, Lightroom & QuadTone RIP.

Attendees produce their first negatives using the Match Print to Screen option.
Day 2: Necessary Practice
I know I can fly! Just a little reminder here and there - but it's time for less talking and more rocking. Today it's time to begin printing with the systems on your own. 
Today the workflow begins in detail. First we show, then you do on your own. Today you will be coating Malde-Ware emulsion onto paper, drying and humidifying it, exposing and processing your first print from the film negative you printed yesterday.  
Piezography was actually designed to be used with a very specific and easy workflow. It has none of the complications facing other QuadTone RIP users experimenting with other ink brands, etc. So we want you to be able to concentrate on your imaging rather than struggling with printing.
Once the initial surprises are out of the way - you will find the workflow rather turnkey and simple considering the excellent results Piezography produces. It really is not difficult to to produce a high standard print. Attendees will begin to print negatives and make Pt/Pd prints. 
Our goals today are to show both advanced and more simple methods of PiezoDN workflow that are tailored towards each participants unique temperature. We do this in darkroom process as well. We recognize that high standards can be met by more than one workflow. and that not all practitioners will want to choose only one method.
Repeat demonstration of rod coating technique.

Each workshop participant will coat their first sheet of paper with Malde-Ware emulsion the neutral Malde-Ware Methodology 2 emulsion.

Coated sheets will be humidified using the whole room method.

Digging a little deeper into Photoshop, Lightroom & QuadTone RIP

Participants will expose, process and wash their first prints.

Demonstration of the processes for determining optimum exposure and negative density range

Demonstration of the PiezoDN negative printing workflow using the Linear option.

Demonstration of imaging techniques especially conducive to Piezography and PiezoDN.
Day 3: Dig a Little Deeper
Day three, we get rolling for real. Everyone is printing negatives, doing calibrations, doing platinum printing in the darkroom, boom! 
Today we will dig a little deeper into how we prepare image files for making digital negatives. We'll demonstrate in both Photoshop and Lightrooom.
It's also time to dig deep PiezoDN software that is used to linearize negatives for any alternative process. We only use Pt/Pd in our darkroom because it is environmentally safe. But, the technique used for linearizing Pt/Pd is the same for any Alt Proc.
As we dig deeper you will learn that there are two ways that the PiezoDN software can linearize your negatives. We start with a perfect linearization from paper white to maximum black that has tens of thousands of gray levels and produced by measuring a single contact print from a PiezoDN target.
Then we show you how to make a linearization that is adaptive to your display. In other words, Pt/Pd is beautiful as a process but its contrast is quite different than that of a display. What if you prefer to match the image on your display? That's the second method, and is just as easy to learn.
Today you'll be measuring targets and entering the data into PiezoDN software. You'll coat your paper, expose the PiezoDN step test target, process and dry the print. Line it up under the i1 spectro and make your measurements to save and insert into the PiezoDN sofware. Choose one or both of the resultant curves for QTR that PiezoDN creates and make a new negative that is perfectly linear. The proof will be in the print you make from the neg.
Resolution, scaling & image sharpening for digital negatives.

Making soft proof profiles for platinum / palladium printing.

Custom linearization of the PiezoDN digital negative system.

Imaging in a What You See is What You Get environment to make Pt/Pd prints that imitate your display.

Free Print Time
Day 4: On Your Own
Now take what you've learned and go forth and make prints! 

Congratulations! You just learned more about how to make high quality platinum and palladium prints than you probably anticipated. The process required no math skills nor complicated software procedures. Best of all, there were no compromises encountered because color inks are not used in the PiezoDN process. You also learned that your Piezography Digital Negative ink set makes Piezography prints!
Today continue to hone your skills in the darkroom, appreciate that what you're printing meets your expectations, and revel in "getting there". There's time to make regular Piezography prints once we close the wet process.
You can also take time this day to learn about printer maintenance, or sit down again with an instructor to go through the PiezoDN software system.
We close the wet darkroom early in the afternoon to ensure everyone has dry prints to bring home with them.
Print negatives, coat papers, expose them, process them, repeat (if this is what you wish to do on your final day.)

Sit back down with an instructor to go over the PiezoDN software again (if you want to.)

Make some regular Piezography prints using the same ink set that you printed your negatives with (if you want to.)

You get the idea, right? This fourth day is yours to either make more Pt/Pd prints or learn more stuff, or ask questions, or make regular Piezography prints or and all of the above!
What to Bring
A Laptop (Macintosh preferred): The studio does not provide computers. You should bring a laptop. But, the studio does provide calibrated displays which can be connected to your laptop! That make's things easier especially when using the studios systems which are designed to match to display. We have enough USB-C/Thunderbolt v2 and v3 adapters for all laptops (aka any Mac laptop from 2012 onwards) but if you have a non-standard computer bring a connector that goes from your laptop and connects into the female "DisplayPort" fitting on the monitor.
Digital Images and original work: Bring a hard-drive of digital images (at least 10 to work on). Ideally bring images that you've printed before and know well and bring raw images that you want to work on from scratch. Bring some film too if you are a medium or large-format photographer as we always do a bit of drum scanning for people if they want to utilize film originals later in the week. If you are not doing "photo" printing that is fine. As long as you have some way to work with your images digitally that is all that is required. Remember though, this is a monochrome class. If you only have color images that is fine, we'll be converting them to black and white for printing.
Install the required software: We require Photoshop be installed on your computer for some of our demos. Lightroom is a good alternative as well but there are things that Photoshop can still do today that Lightroom can't. If you are normally a Photoshop person that is fine. If you a Lightroom person bring a laptop with both installed. Install Excel (it does not have to be activated). Everything else will be provided to you!
Accommodations, Hours, and Info
LOCATION AND HOURS:
The studio is located at 17 Powder Spring Road, Topsham, Vermont 05076. It is registered with Google Maps and you can trust Google directions to our studio. The studio is open to students, and instruction is provided from 12:00 PM - 500 PM. Your instructor sets time for demonstrations, a mid-day snack, critiques and clean up. On Wednesday we try to have a paella party in the Summer when weather permits. In the Fall we try to do something similar. But, we do keep the studio open later on Wednesdays. We also encourage sharing your work on Wednesday early evening. So plan for staying a bit later on Wednesday to share, eat, or get a bit more printing done! Your traveling partners are welcome to the Wednesday night party.
TRAVEL: 
Our nearest airport (75 minutes) is Burlington International Airport (BTV) in Burlington, VT. Other airports are Manchester-Boston Regional Airport (MHT) (130 minutes) and Boston-Logan (180 minutes). There are car rentals as well as private taxis and shuttles between the airport in Burlington, VT and East Topsham.
LODGING: 
The amount of lodging near us is very limited. You must make reservations early if you want to be within walking distance of our studio. There is a small B&B with friendly owners and excellent breakfast and 5 minute walk: http://www.vermontbackintime.info/
Rest Haven is the closest Inn to our studio. They are located in West Topsham (an 18 minute drive) They can provide meals. They have five different guest rooms. Please contact Angela Piletz  
[email protected]   (585) 749-0015

Lake Morey Resort (25 minute drive)
Gibson House Bed & Breakfast (30 minute drive)
Millstone Inn, heart of the old Websterville granite quarries (25 minutes drive)
Firehouse Inn,  an old firehouse converted into a restaurant and inn (25 minutes drive)
Maplecroft Bed & Breakfast (25 minutes drive)
The Lyme Inn (40 minute drive)
Dowd's Country Inn (40 minute drive)
Breakfast on the Connecticut Inn (40 minute drive)
Norwich Inn and Brewery (40 minutes drive)
Betsy's Bed and Breakfast (45 minutes drive)
The Inn at Montpelier (45 minutes drive)
Capital Plaza Hotel (45 minutes drive)
Hannover Inn (upscale and fine dining) (45 minutes drive)
Six South Hotel (45 minutes drive)
Stillwater State Park (camping) (20 minutes drive)
Cancellation Policy


Because these workshops are small and your cancelling adversely affects the program, Cone Editions has both a very generous and a very strict cancellation policy.
We collect a deposit payment if you sign up more than 30 days in advance of a workshop. All workshops must be fully paid 30 days in advance.

If you withdraw more than 30 days prior to the start date of your workshop, all payments made will be refunded, minus a cancellation fee equal to 50% of the deposit.

If you withdraw between 30 and 15 days prior to the start date of the workshop, all payments made will be refunded, minus a cancellation fee equal to 50% of the workshop tuition, unless Cone Editions or you can supply a replacement, in which case you will receive a full refund minus a cancellation fee equal to 50% of the regular deposit amount associated with that workshop.
If you withdraw less than 15 days prior to the start date of the workshop you will receive no refund, unless Cone Editions or you can supply a replacement, in which case you will receive a full refund minus a cancellation fee equal to 50% of the regular deposit amount associated with that workshop.
There are no exceptions to these policies and Cone Editions is not responsible for cancellations due to medical or other emergencies. Should Cone Editions have to cancel a workshop, all fees and deposits are refunded in full or may be transferred to another workshop within 12 months. Cone Editions is not responsible for reimbursement of non-refundable airline tickets in the event of a workshop cancellation. We strongly recommend that you purchase trip cancellation/travel insurance.