Platinum Printing with Pradip Malde (Part 1), July 31-Aug 3 2023
Workshop Overview
This workshop is designed to teach platinum-palladium printing with enlarged digital negatives, as an introductory opportunity to become familiar with one of the most highly nuanced approaches to the process.
Platinum/palladium printing has always been valued for its permanence and its ability to resolve tonal values - 'velvety' is a term often used to describe fine platinum/palladium prints. The method taught in this workshop has recently been recognized by conservators as the most permanent variation of the process. The image appears as it is exposed (print-out) and renders remarkably smooth tones, with the legendary 'creamy' highlights and open shadows. All together, this demands the best possible negative. The Piezography PiezoDN Digital Negative system is among the most finely tuned and highly resolved methods for making enlarged negatives. There are a multitude of formulae for making prints from platinum and/or palladium, and the same is true for digital negative making. This workshop concentrates on a particular approach to each: the print-out platinum/palladium method, invented in the late 19th C and refined by Dr. Mike Ware and Pradip Malde during the 1980s, and the Piezography PiezoDN digital negative method.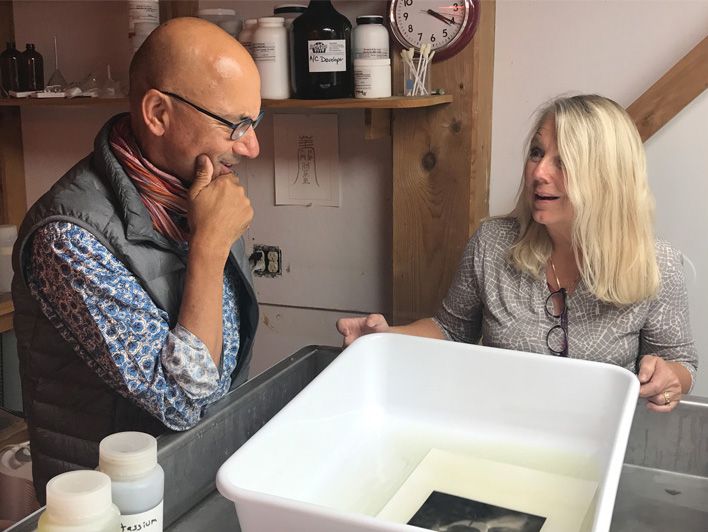 Day Plan for Workshop Includes:
Demonstrations: Digital to Printer setups; negative printing; platinum-palladium printing

Discussions: History; Technical aspects of the process; Chemistry, safety and preparation; Folio reviews and aligning process to vision 

Doing: Workroom setups; printing; fine-tuning; problem solving
What to Bring
A Laptop (Macintosh preferred): The studio does not provide computers. You should bring a laptop. But, the studio does provide calibrated displays which can be connected to your laptop! That make's things easier especially when using the studios systems which are designed to match to display. We have enough USB-C/Thunderbolt v2 and v3 adapters for all laptops (aka any Mac laptop from 2012 onwards) but if you have a non-standard computer bring a connector that goes from your laptop and connects into the female "DisplayPort" fitting on the monitor.
Digital Images and original work: Bring a hard-drive of digital images (at least 10 to work on). Ideally bring images that you've printed before and know well and bring raw images that you want to work on from scratch. Bring some film too if you are a medium or large-format photographer as we always do a bit of drum scanning for people if they want to utilize film originals later in the week. If you are not doing "photo" printing that is fine. As long as you have some way to work with your images digitally that is all that is required. Remember though, this is a monochrome class. If you only have color images that is fine, we'll be converting them to black and white for printing.
Install the required software: We require Photoshop be installed on your computer for some of our demos. Lightroom is a good alternative as well but there are things that Photoshop can still do today that Lightroom can't. If you are normally a Photoshop person that is fine. If you a Lightroom person bring a laptop with both installed.
Biography of Pradip Malde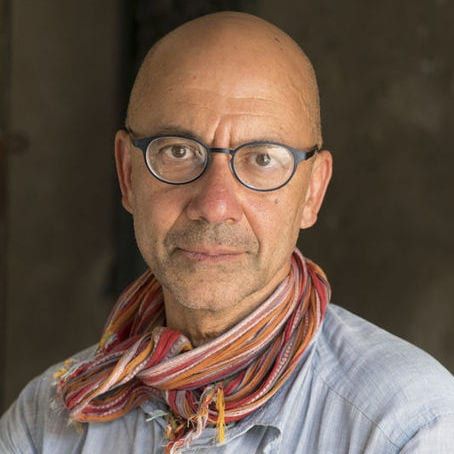 Pradip Malde is a photographer and educator who has lived and worked in Tanzania, India, Spain, and Scotland, and currently resides in the United States. His work has been widely published and exhibited across the USA and Europe and is included in various public and private collections, notably the Museum of the Art Institute of Chicago; Houston Museum of Fine Art, Center for Creative Photography, Tucson, Princeton University Museum, Victoria & Albert Museum, London; the Scottish National Portrait Gallery, Edinburgh; and the Museum of Contemporary Photography, Chicago. 
Malde's work sits between fine art, documentary, and collaborative modes of photography practice, but throughout has worked extensively with large format and platinum-palladium printing. His long-term professional collaboration with chemist and photographer Mike Ware, which began in 1981, led to the successful re-formulation of an ammonium-based platinum/palladium printing-out process, derivative of the 19th century process published by Austrian photographers Joseph (Giuseppe) Pizzighelli (1849-1912) and Arthur von Hübl (1853-1932)  in 1883 titled "La platinotypie."
A 2018 Guggenheim Foundation Fellow, Malde is the author, with Mike Ware of "Platinotype: Making Photographs in Platinum and Palladium with the Contemporary Printing-out Process," Routledge, 2020; and a monograph, "From Where Loss Comes," Charcoal Editions Press, 2022. 
Accommodations, Hours, and Info
LOCATION AND HOURS:
The studio is located at 17 Powder Spring Road, Topsham, Vermont 05076. It is registered with Google Maps and you can trust Google directions to our studio. The studio is open to students, and instruction is provided from 12:00 PM - 500 PM. Your instructor sets time for demonstrations, a mid-day snack, critiques and clean up. On Wednesday we try to have a paella party in the Summer when weather permits. In the Fall we try to do something similar. But, we do keep the studio open later on Wednesdays. We also encourage sharing your work on Wednesday early evening. So plan for staying a bit later on Wednesday to share, eat, or get a bit more printing done! Your traveling partners are welcome to the Wednesday night party.
TRAVEL: 
Our nearest airport (75 minutes) is Burlington International Airport (BTV) in Burlington, VT. Other airports are Manchester-Boston Regional Airport (MHT) (130 minutes) and Boston-Logan (180 minutes). There are car rentals as well as private taxis and shuttles between the airport in Burlington, VT and East Topsham.
LODGING: 
The amount of lodging near us is very limited. You must make reservations early if you want to be within walking distance of our studio. There is a small B&B with friendly owners and excellent breakfast and 5 minute walk: http://www.vermontbackintime.info/
Rest Haven is the closest Inn to our studio. They are located in West Topsham (an 18 minute drive) They can provide meals. They have five different guest rooms.Please contact Angela Piletz  
[email protected]   (585) 749-0015

Lake Morey Resort (25 minute drive)
Gibson House Bed & Breakfast (30 minute drive)
Millstone Inn, heart of the old Websterville granite quarries (25 minutes drive)
Firehouse Inn,  an old firehouse converted into a restaurant and inn (25 minutes drive)
Maplecroft Bed & Breakfast (25 minutes drive)
The Lyme Inn (40 minute drive)
Dowd's Country Inn (40 minute drive)
Breakfast on the Connecticut Inn (40 minute drive)
Norwich Inn and Brewery (40 minutes drive)
Betsy's Bed and Breakfast (45 minutes drive)
The Inn at Montpelier (45 minutes drive)
Capital Plaza Hotel (45 minutes drive)
Hannover Inn (upscale and fine dining) (45 minutes drive)
Six South Hotel (45 minutes drive)
Stillwater State Park (camping) (20 minutes drive)
Cancellation Policy


Because these workshops are small and your cancelling adversely affects the program, Cone Editions has both a very generous and a very strict cancellation policy.
We collect a deposit payment if you sign up more than 30 days in advance of a workshop. All workshops must be fully paid 30 days in advance.

If you withdraw more than 30 days prior to the start date of your workshop, all payments made will be refunded, minus a cancellation fee equal to 50% of the deposit.

If you withdraw between 30 and 15 days prior to the start date of the workshop, all payments made will be refunded, minus a cancellation fee equal to 50% of the workshop tuition, unless Cone Editions or you can supply a replacement, in which case you will receive a full refund minus a cancellation fee equal to 50% of the regular deposit amount associated with that workshop.
If you withdraw less than 15 days prior to the start date of the workshop you will receive no refund, unless Cone Editions or you can supply a replacement, in which case you will receive a full refund minus a cancellation fee equal to 50% of the regular deposit amount associated with that workshop.
There are no exceptions to these policies and Cone Editions is not responsible for cancellations due to medical or other emergencies. Should Cone Editions have to cancel a workshop, all fees and deposits are refunded in full or may be transferred to another workshop within 12 months. Cone Editions is not responsible for reimbursement of non-refundable airline tickets in the event of a workshop cancellation. We strongly recommend that you purchase trip cancellation/travel insurance.