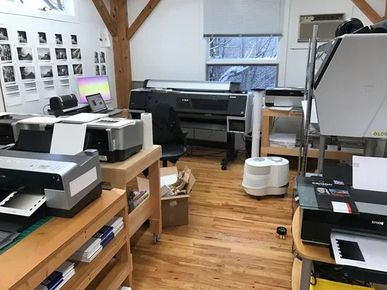 Print Studio Setup, Color Management, & Workflow
COMING SOON! This course goes through the major design and workflow considerations when setting up home studios for printing. We cover everything from room lighting, humidity, dust control, through digital workflow, monitors, computers, printers, inks, icc profiles, and print storage.
Chairs, Desks, Tables, Walls, Lights
We go over the basic setup that makes a studio functional.
Paper Management
How to handle inkjet paper, print storage, etc.
Dust
How to deal with dust and other contaminate issues.
Temp and Humidity Control
Temperature and Humidity are two incredibly important problems to over-come in any studio.
The PIPES!
How to handle data is important, we go into the digital side in a different section but in this section we'll talk about the physical infrastructure of data management: gigabit ethernet, NAS storage setup, and long USB cables.